---
Unlocking The Deck Potential Of Belvidere Homes
Have you ever found yourself daydreaming about hosting a summer BBQ on a spacious deck? Or perhaps you've imagined sipping your morning coffee on a cozy, intimate balcony overlooking your garden?
Dive into this guide to discover the ins and outs of selecting the perfect deck size for your Belvidere home.
By the end, you'll be equipped with the knowledge to correctly size your new deck install in Belvidere, ensuring your deck not only enhances your home but also your lifestyle.
---
Key Points For Choosing The Best Deck Size
Basics: The average deck size is between 300-400 sq. ft., with deck height playing a crucial role in complementing your home.
Proportionality: Aim for a deck that's less than 20% of your home's total square footage.
Functionality: Consider the deck's purpose, from intimate gatherings to large parties.
Size Guidelines: Allocate about 20 sq. ft. of deck space per person for social events.
Local Regulations: Always check with Belvidere, IL's local building codes before starting your decking project.
Budget: Factor in deck material costs, design, and labor. Larger decks can sometimes be more cost-effective.
Multi-Level Deck Options: Great for maximizing limited space and adding architectural flair.
Design: Ensure your deck's layout flows with your home, and choose furniture and decor that enhances its functionality and aesthetics.
---
Determining Your Ideal Deck Size
The Basics
When embarking on a decking project in Belvidere, IL, understanding the basics is crucial.
The average deck size most homeowners opt for ranges between 300 and 400 square feet. This average-size deck provides ample space for seating, a grill, and even a small dining table.
However, the size of a deck should also harmonize with the house. It's not just about square footage; the deck's height plays a pivotal role in ensuring it complements your home's aesthetics.
---
Proportionality
A deck can transform your outdoor space, but it's essential to strike a balance.
Most builders suggest that your deck should be less than 20% of your house's total square footage. This ensures that your deck encapsulates the right proportion, making it both functional and aesthetically pleasing.
For instance, if the largest room in your house is 500 square feet, aim for a deck size that's roughly 100 square feet or a bit more for extra breathing room.
---
Functionality
The purpose of your deck depends greatly on your lifestyle.
Are you looking to create an intimate spot for evening relaxation, or is your goal to host grand parties? Maybe you want a space for your hot tub?
Envision activities like BBQs, lounging, or children's play areas. If you're a fan of hosting, you might need more space to accommodate a round dining table and patio furniture.
On the other hand, a smaller yard is ideal for a small deck with a grill and a couple of chairs. Remember, it's not just about size; it's about how you plan to use the space.
---
Size Guidelines
When considering the deck size for your Belvidere home, a general rule of thumb is to allocate about 20 sq. ft. of deck space per person for social situations.
This ensures everyone has enough space to move around comfortably, whether they're spending time at the dining table or by the grill.
For instance, if you anticipate hosting gatherings of 10 people, aiming for a deck size of around 200 sq. ft. would be ideal. This gives you a rough idea of the space needed, especially if you plan to include a patio set or a small grilling area.
---
Local Regulations
Building a deck isn't just about design and functionality; it's also essential to be aware of local deck building codes in Belvidere, IL. These codes ensure that your deck is safe and adheres to city standards.
For instance, there might be restrictions on how close your deck can run alongside a septic tank or drain field. It's crucial to check with local authorities before starting your decking project to avoid any future complications.
---
Budget
Every homeowner has a vision for their ideal deck, but budget constraints can sometimes limit those dreams.
Recognizing the cost factors involved in building a deck can help you make informed decisions. The material you choose, the complexity of the design, and labor costs all play a role in the final price tag.
However, if you're on a tight budget, there are economical tips to consider. Opting for a larger deck size can sometimes be more cost-effective due to economies of scale. Deck size and cost can be directly related; there are ways to increase deck size without a massive cost increase.
Also, integrating straight lines in the design can be less labor-intensive than straight and curved lines, potentially saving on costs.
---
Multi-Level Deck And Multi-Deck Options
For homeowners with limited yard space or unique terrains, multi-level decks can be a game-changer. These designs allow you to maximize your outdoor space by creating varied functional zones.
For instance, the ground level could be reserved for dining, while an elevated portion might be dedicated to lounging. Multi-level designs also add an architectural flair to your residential deck, making it stand out.
However, it's essential to ensure each level encapsulates the right proportion and functionality.
---
Enhancing And Optimizing Your Deck
When it comes to decks, especially in the scenic Belvidere, IL area, bigger isn't always synonymous with better.
The key lies in optimizing the space you have, ensuring it aligns with your needs and aesthetic preferences.
---
Size vs. Functionality
While a large deck might seem enticing, it's essential to consider its functionality.
Does the size of your deck align with its intended use? For instance, a vast space might seem underutilized if it's just for a couple of chairs and a small table.
On the flip side, a smaller deck can be the perfect cozy nook for morning coffees or intimate dinners. It's all about striking the right balance.
---
Maximizing Small Spaces
There are numerous design tricks to enhance smaller deck sizes, making them appear spacious and inviting.
Vertical Elements:

Utilizing vertical space with tall plants or trellises draws the eye upward, giving the illusion of more space.

Monochromatic Color Schemes:

Light colors, especially in a unified shade, can make a space feel open and airy.

Multi-Functional Furniture:

Furniture that serves multiple purposes, like benches that offer both seating and storage, can save significant space.

Foldable Furniture:

Using furniture that can be folded or stacked when not in use ensures the deck can be easily adapted for different needs.

Open Railings:

Opting for open or see-through railings prevents the space from feeling confined, allowing for an unobstructed view.
---
Designing Your Deck Layout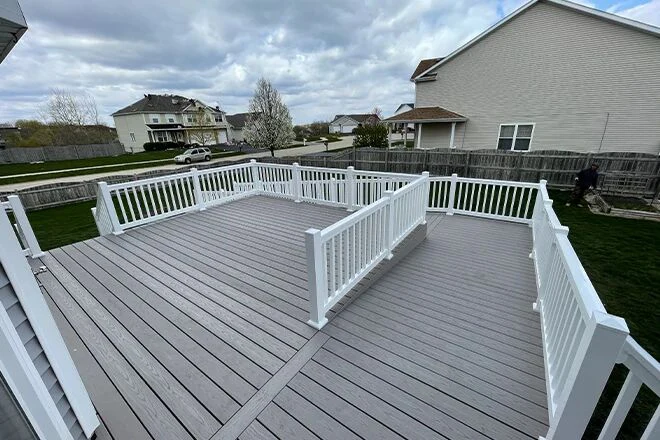 Crafting the perfect deck layout is akin to piecing together a jigsaw puzzle. Every element, from furniture to decor, plays a pivotal role in determining the overall look and feel.
Discover how deck layout affects cost.
---
General Layout
The general layout of your deck should flow seamlessly with your house. Whether you're opting for straight or curved lines, the design should encapsulate the essence of your home.
For instance, a deck running alongside the length of your house can accentuate its architecture, while a circular design might be perfect for homes with a more contemporary vibe.
---
Furniture & Decor
From comfy loungers for sunbathing to a dining table for alfresco meals, every piece should be chosen with care. If you're tight on space, consider foldable furniture or multi-purpose deck furniture that offers storage solutions.
---
Special Features
No matter your deck size, these add-ons are worth considering:
Built-in Seating
Outdoor Fireplaces or Fire Pits
Pergolas and Awnings
Outdoor Kitchens
Hot Tubs or Spas
Lighting
Water Features
Privacy Screens
Glass or Wire Railings
Sound Systems
Heaters or Fans
Swing or Hammock Installations
Bar or Cocktail Rail
Ramps or Accessibility Features
Decorative Inlays
Gazebos
Safety Gates
---
Craft The Best Deck In Belvidere With Hard Decks
In this guide, we've journeyed through the essentials of selecting the perfect deck size, understanding design intricacies, and maximizing both functionality and aesthetics. The benefits of a well-planned deck are numerous, from enhancing your outdoor living experience to adding value to your Belvidere home.
At Hard Decks, we're not just builders; we're your partners in crafting outdoor spaces that resonate with your vision. With our expertise and dedication, we ensure every deck we install becomes a cherished extension of your home.
Ready to transform your outdoor space? Fill out our contact form today, or give us a call. Your dream deck awaits!