---
Deck Dreams Can Come True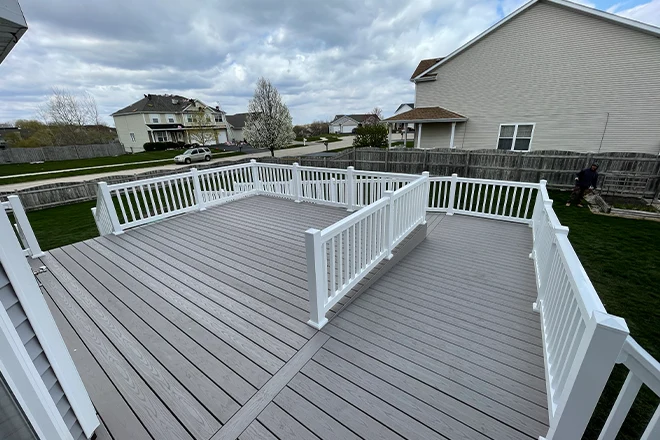 Ever gazed out into your backyard and imagined hosting summer barbecues on a stunning new deck? Or maybe you've dreamed of replacing your existing deck to create a tranquil space to sip your morning coffee?
Well, you're not alone. Decks are a coveted feature for many homeowners.
In this post, you'll learn how deck material choices can significantly impact the cost to build a deck. By the end, you'll be equipped with the knowledge to make informed decisions that align with both your dreams and your budget.
---
The Impact Of Deck Material Choices
Deck materials play a significant role in the overall deck expenses. Softwoods like pine and cedar are more budget-friendly, while exotic woods like ipe and composite materials tend to be pricier but offer more durability.
---
Pressure-Treated Wood (Pine)
Pressure-treated pine is one of the most affordable wood decking materials. However, this traditional wood decking material requires regular maintenance to prevent rot and decay. With this material, deck installation costs in Belvidere are lower, but maintenance and repair costs can add up over time.
---
Cedar Decking
Cedar is a step up from pressure-treated pine. It's naturally resistant to rot and insects, which means it requires less maintenance. Cedar has a beautiful, rich color and is a mid-range option in terms of installation costs. Regular staining or sealing is recommended to maintain the appearance of this wood deck.
---
Redwood Material
Redwood is similar to cedar but is known for its vibrant red color. It's also resistant to rot and insects. Redwood is more expensive than cedar but offers a unique aesthetic. Like cedar, it requires regular maintenance to keep its color from fading.
---
Ipe Hardwood
Ipe is an exotic hardwood known for its extreme durability and beautiful dark color. It's one of the most expensive decking materials, but it's also one of the most durable. Ipe can last for decades with minimal maintenance, but it's essential to consider the higher upfront installation costs.
---
Composite Decking Material
Composite deck boards are made from a blend of plastic and wood fibers. It's a fantastic alternative for those who want the look of wood without the maintenance that comes with it. Composite decks don't need to be stained or sealed, and they're resistant to rot and insects.
The installation costs for a composite deck are higher than softwoods but can be offset by lower maintenance costs over time.
---
Engineered Wood
Engineered wood is another alternative to traditional wood. It's made from wood fibers combined with adhesives. Engineered wood is resistant to rot and insects, and it doesn't warp or crack as easily as natural wood. It's a mid-range option in terms of installation costs and requires moderate maintenance.
---
Aluminum Decking
Aluminum is a non-traditional decking material that offers durability and a modern aesthetic. It's incredibly resistant to the elements and requires very little maintenance. However, it doesn't have the natural look of wood, and the installation costs are generally higher.
---
Vinyl Decking
Vinyl, or PVC decking, is a low-maintenance alternative to wood. It's resistant to rot and insects and doesn't require staining or sealing. Vinyl decking is available in a range of colors and styles. The installation costs are comparable to composite decking.
---
Deck Material Recommendations From Hard Decks
When it comes to building a deck, the choice of materials is crucial. Hard Decks recommends a range of materials depending on your budget and preferences. Here's a breakdown of the materials recommended by Hard Decks for different levels of decking projects:
Pressure-Treated Decking
For those on a tight budget looking for a simple and functional deck, pressure-treated decking and railings is an excellent choice.
This option is ideal for homeowners who want a basic deck without the frills.
---
Economy Level Composites Deck Boards
If you're looking for a step up from pressure-treated wood, Hard Decks recommends economy-level composite deck boards such as Trex Enhance, Deckorators Venture, Timbertech Prime, or Timbertech Premier.
This option is perfect for homeowners who want a stylish deck without breaking the bank.
---
Standard Composites Deck Boards
For those seeking a balance between style and durability, standard composite deck boards are recommended. Options like Trex Select, Deckorators Vista or Vault, and Timbertech Legacy or Reserve are excellent choices.
This option is ideal for homeowners who are willing to invest a bit more for a higher-quality deck.
---
Premium Composites/PVC Deck Boards
For the ultimate in luxury and durability, Hard Decks recommends premium composite or PVC deck boards such as Trex Transcend, Deckorators Voyage, or AZEK Vintage.
This option is for those who desire the best of the best and are willing to invest in a deck that will be the envy of the neighborhood.
---
The Cost Of Deck Installation In Belvidere, Illinois
The cost of deck installation in Belvidere, IL, goes from about $6,000 to $50,000 and higher, depending on factors such as deck size, deck materials, and more.
The three typical deck categories are Economy, Standard, and Premium, each with different features and cost ranges.
---
Other Cost Factors For Deck Installation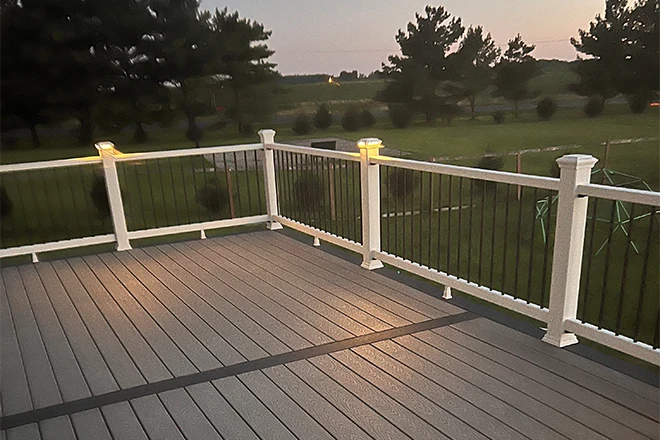 Deck Categories and Features
There are three main categories: Economy, Standard, and Premium.
The Economy option is ideal for those on a tighter budget, while the Premium option caters to those desiring a high-end, spacious, and long-lasting outdoor living space.
The features and materials in each category significantly affect the cost.
---
Contractor Selection And Labor Costs
The choice of deck contractor and labor costs are crucial factors.
Deck building isn't easy, which is why it's essential to select a contractor with experience, positive customer reviews, and proper licensing. The labor cost can range from $12 to $30 per square foot.
Opting for experienced craftsmen ensures that the deck is built to code and lasts for years.
---
Deck Size And Complexity
The size of the deck impacts cost, as does the complexity of the design. Larger decks with intricate designs and multiple levels will naturally cost more.
It's important to balance the desire for a spacious deck with the budget constraints.
---
Additional Features
Adding features like railings, lighting, benches, and stairs can enhance the functionality and aesthetics of your deck, but they also add to the cost.
For example, railings can range from $10 to $200 per linear foot, depending on the material. Lighting options for decks vary in cost, and adding benches or stairs will also increase the overall expenses.
---
Maintenance And Repairs
The long-term costs of owning a deck include maintenance and repairs.
Regular maintenance, such as painting, staining, and sealing, is essential to prolong the life of the deck. Additionally, repairs for damaged boards or railings can add to the costs over time.
---
Permits And Regulations
Depending on the location, you may need to obtain permits for building a deck.
Additionally, there may be regulations regarding the size and design of the deck. It's important to factor in the costs of permits and ensure that the deck complies with local regulations.
---
Geographic Location
The geographic location can also affect the cost. In areas where the cost of living is higher, you can expect to pay more for materials and labor.
Additionally, the local climate can influence the choice of materials, as some materials are better suited for certain weather conditions.
---
Take The Next Step Towards Your Dream Deck With Hard Decks
Ready to transform your backyard into the ultimate outdoor living space? Don't let another summer pass by without the deck you've always wanted.
With Hard Decks, you can rest assured that you're getting the best in quality and service. We're the best deck builders in Belvidere, IL.
So why wait? Fill out our contact form today or give us a call, and let's make your decking dreams a reality!