---
It's A Material World; Find The Best One For Your Project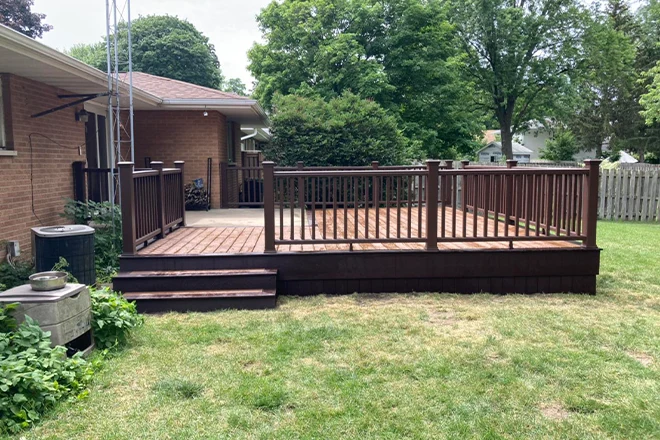 Ever found yourself daydreaming about the perfect backyard deck in Belvidere, IL? Or perhaps you've caught yourself wondering which decking material would best withstand our Illinois seasons?
Well, you're in the right place!
This post will guide you through the world of deck materials and the maze of options available.
By the end, you'll have a better idea about which material is best for your new deck installation in Belvidere.
---
Choosing The Right Decking Material: Belvidere's Guide
In Belvidere, your deck isn't just an extension of your home; it's a statement. But with so many deck materials on offer, how do you pick the right one for your new deck project?
Natural vs. Synthetic: While natural woods like cedar bring classic charm, they demand regular upkeep. Synthetic options, like composite or PVC decking, promise durability with less fuss. But remember, nothing quite matches the warmth of real wood for a deck replacement or new deck installation.
Cost Considerations: Initial deck material costs are just the start. Think about installation and long-term maintenance. Sometimes, a cheaper material upfront, like pressure-treated lumber, might have higher maintenance costs down the road.
Discover how deck material choice affects deck installation costs.
Belvidere's Influence: Our unique Illinois climate and local style can sway your material choice. Some materials weather better here, and others fit the Belvidere aesthetic just right.
---
Hard Decks Choice Materials For New Deck Installation
When it comes to decking out your Belvidere backyard, the choices can feel overwhelming.
Here are the materials we prefer to use for Belvidere clients' deck renovations or new deck installation projects.
---
Deck Materials
Pressure-Treated Wood: A popular choice for many, pressure-treated wood is both affordable and durable. It's treated to resist rot, moisture, and insects, making it a solid choice for Belvidere's varying weather. However, it does require some maintenance, like annual pressure washing, to keep it looking fresh.
Composite: Composite decking, made from a blend of recycled plastics and wood fibers, is the go-to for those looking for a low-maintenance option. It's resistant to many common deck woes like warping, rot, and insects. Plus, with a range of colors and styles, you can customize it to fit your aesthetic.
PVC: PVC deck materials are made entirely of polyvinyl chloride, making it incredibly resistant to the elements and almost maintenance-free. It's come a long way in terms of aesthetics, offering a wide range of color options to suit any Belvidere home. This makes it ideal for a new deck installation.
---
Railing Materials
Aluminum: Sleek, modern, and long-lasting, aluminum railings are a top choice for those looking for minimal maintenance and maximum style.
Cable: For those seeking a more contemporary look, cable railings offer a clean, unobstructed view, making them perfect for decks with a view.
Composite: Matching your composite deck with composite railings? A great choice! They offer the same low-maintenance benefits and come in a variety of styles.
---
Deck Materials For Your New Deck Installation Project
When it comes to your new deck installation project, the material you choose can set the tone for the many Belvidere backyard gatherings to come.
---
Natural Wood Deck Boards: The Timeless Beauty
Ah, the classic charm of a wood deck. There's something undeniably inviting about the natural grains and warm hues of wood that can transform any outdoor living space into a cozy retreat.
Durability Meets Aesthetics: Natural wood, especially types like cedar, redwood, and tropical hardwoods, is not just about looks. These woods are naturally resistant to rot and insects, making them a sturdy deck material for your Belvidere home. But remember, with great beauty comes responsibility for your new deck installation. These decks require some tender loving care to maintain their luster.
Maintenance Matters: While a wood deck can be a sight for sore eyes, it does demand regular upkeep. From pressure washing to re-sealing, ensuring your deck remains the star of your backyard requires some effort. But the results? Absolutely worth it.
Cost Considerations: Natural wood deck materials can be a bit on the pricier side, especially if you're leaning toward tropical hardwoods. The costs vary based on the type of wood, but considering the aesthetic appeal and durability, many homeowners find it a worthy investment for their new deck installation.
Hardwood Decks
These are the crème de la crème of wood decks. Made from woods like Ipe, mahogany, and tigerwood, they offer moderate long-term value.
However, they are susceptible to moisture and weathering, and they can change color when exposed to UV rays. The upfront costs can be a bit steep, but their unique beauty and durability often justify the price.
Softwood Decks
Think cedar and redwood. While they offer the least long-term value compared to hardwoods, they have their own set of charms.
They require high maintenance due to their susceptibility to weathering agents. Regular processes like staining and sealing are essential to keep these deck materials in top shape.
And while they might be lighter on the pocket initially, the costs associated with maintenance and potential replacement can add up over time.
---
Pressure-Treated Wood Decking: The Affordable Choice
When it comes to new deck installation in Belvidere, pressure-treated wood is often the go-to for those on a budget. But affordability doesn't mean compromising on quality.
Pressure-treated wood is typically southern pine that's been treated to resist rot, moisture, and insects.
It's a fantastic choice for those who want the look and feel of a natural wood deck without the hefty price tag of some hardwoods.
Maintenance and Care: While this deck material is more resistant to the elements than untreated wood, it still requires some upkeep. Annual pressure washing will keep it looking fresh, and over time, you might find the need to re-stain or seal it to maintain its appearance.
Safety First: If you're taking on a new deck installation project yourself, remember to take precautions when sawing or drilling this wood. The chemicals used in the treating process can be harmful if inhaled. Follow proper safety precautions for treated wood.
---
Composite Decking: The Future of Decking
Composite decking is quickly becoming one of the favorite deck materials among Belvidere homeowners.
What's in a Composite Deck? Made from a blend of recycled plastic and wood fibers, composite decking offers the best of both worlds. It has the aesthetic appeal of wood without the maintenance headaches.
Colors, Styles, and More: One of the significant advantages of composite deck materials is the variety they offer. Whether you're looking for a specific shade to match your home's exterior or a particular texture, there's likely a composite board that fits the bill.
Low Maintenance Living: Say goodbye to staining, sealing, and sanding. Composite decks are almost maintenance-free. However, like any outdoor feature, they aren't entirely immune to the elements. In direct sunlight, they can get quite hot, and in shady areas, there's a potential for mold growth. But, with proper care and placement, these issues can be minimized.
Cost Considerations: While composite decking can be more expensive per square foot than some other deck materials, the savings in maintenance costs over the years can make it a cost-effective choice for your new deck installation project.
Capped vs. Uncapped: When diving into the world of composite decking, you'll come across capped and uncapped options. Capped composite decking has an added layer of durable plastic, offering more protection from the elements. Uncapped, while still sturdy, lacks this protective layer and can be more susceptible to damage over time.
---
Alternative Decking Materials
While wood and composite are popular choices for new deck installation in Belvidere, there are alternative deck materials that might be the perfect fit for your unique needs.
---
PVC Decking: The Modern Marvel
What is PVC Decking? PVC, or polyvinyl chloride, is a type of plastic used in various applications, including decking. It's known for its resilience and almost maintenance-free nature.
Why Choose PVC? PVC decking offers a wide range of color options, ensuring you find the perfect shade for your Belvidere home. Over the years, the formulations and aesthetics of PVC decks have improved significantly, making them a top choice for homeowners looking for durability and style.
Cost and Sustainability: While PVC deck materials can vary in cost, some options have less recycled content, which might be a consideration for the environmentally conscious homeowner. However, the low maintenance and long lifespan can offset the initial new deck installation investment over time.
---
Aluminum Decking: The Durable Dynamo
Strength and Resistance: Aluminum decking is not just about sleek looks; it's also about strength. It's fire-resistant, making it an excellent choice for areas prone to wildfires. For homes near water bodies in Belvidere, aluminum's resistance to moisture is a significant plus.
Cost Considerations: While the initial deck cost for aluminum can range from $15 to $25 per square foot, its longevity and minimal maintenance needs can make this deck material a cost-effective choice over time.
Aesthetic and Features: Aluminum decks offer a modern look, perfect for contemporary homes. They come with features like interlocking boards, which help in water management, especially if you're planning a patio or some furniture below the deck.
---
Plastic Decking: The Low-Maintenance Leader
Why Plastic? Plastic decking, made from PVC or polyethylene, is a fantastic option for those who want a deck that's resistant to warping, cracking, rot, decay, and insects. Plus, there's no need for sanding, staining, or sealing after your new deck installation.
Heat and Appearance: One thing to note is that the surface of this deck material can get hot in direct sunlight. Over time, some plastic decks may develop a chalky coating. But with the right care and high-quality boards, this can be minimized.
Easy Installation: For those looking to build a deck themselves, plastic decking offers easy access and installation, with many boards designed for quick laying and fastening.
---
Making The Final Decision: How To Choose The Best Decking Material
So, you've explored the myriad of deck materials available for your new deck installation in Belvidere. But how do you make that final decision?
---
Consider Your Lifestyle and Needs
Foot Traffic: How often will your deck be used? If you're someone who loves hosting BBQs and parties, or just enjoys spending time outdoors, you'll want a material that can withstand heavy foot traffic.
Exposure: Is your deck constantly exposed to the sun, or is it shaded? Some deck materials, like certain woods, can stain or fade when exposed to direct sunlight.
Deck Size and Budget: The size of your deck and your new deck installation project budget will play a significant role in your decision. Larger decks will require more materials, and certain decking options can be pricier than others.
Want to know how deck size will impact your deck cost (it's more than just big decks cost more)?
Maintenance: How much time are you willing to invest in maintaining your deck? While some deck materials are almost maintenance-free, others might require regular staining, sealing, or other care.
---
Think About The Extras
Add-Ons: Are you considering add-ons like stairs, railings, or other finishing touches? These can influence the overall deck installation cost in Belvidere and the type of material you choose.
Fasteners, Screws, and Installation: Some deck boards might require specific screws or fasteners. It's essential to ensure that the material you choose aligns with the new deck installation method you're considering.
Resistance: In areas prone to moisture or mildew, you'll want to opt for deck materials that offer resistance to these elements.
---
Visualize And Test
Before making a final decision, it's a good idea to see samples in person. Visit local suppliers or showrooms in Belvidere to get a feel for the materials. If possible, walk on them to see how they feel underfoot.
---
Consult With Professionals
If you're still unsure, consider consulting with deck-building professionals in Belvidere. They can provide insights based on your specific decking needs and the nuances of the local climate and lifestyle.
---
Best Deck Materials Need The Best Deck Builder: Hard Decks
We hope this guide has shed light on the vast world of deck materials and helped you get closer to making a decision for your new deck installation project in Belvidere.
At Hard Decks, we pride ourselves on delivering top-notch deck projects tailored to your needs. Whether you're completely replacing an existing deck or embarking on a new decking installation project, we've got you covered.
Ready to transform your outdoor living space? Fill out our contact form today, or give us a call. Let's build something beautiful together!